How to Put On a Wig | QIMI Wigs
When you receive your new wig, it's already pre-styled and practically ready to wear out of the box. With a little shake and fluff, you can have your wig looking ready to wear in just a few minutes.
My wig is inside out! Why is that?
Because of the various types of styles, there are different packaging methods used to preserve each style. For instance, when you open the box, you may notice that your wig is packaged inside out. This is done to preserve the style's open, airy appearance. There are other common packaging methods, such as tucked, folded, inside out, and upside down, where the wig is folded a certain way, or placed on its side. Each method is designed to preserve the wig's style.
Now that you understand why wigs are packaged in different ways, let's take a look at what you should do once you take the wig out of the box. First, cup your hands inside the wig and shake it to loosen the fibers. If your wig is styled in ringlet curls, use your fingers or a pick comb. If your wig is a straight style, you can use a wig brush to gently brush through the wig. Never use a regular brush on a wig! It's important to only use styling tools that are designed specifically for wigs, otherwise you risk damaging the wig. As you fluff your wig with either your fingers, a pic comb, or wig brush, you will notice the wig will begin to look fuller and take on the appearance of the style you ordered.
1. Grasp the wig by the nape, usually where the label is located, with both hands. Then, tilt your head forward a little since your wig will be gliding onto your head from front to back.
2. Next, place the front of your wig just above your eyebrows. Then, slip the wig on just like you would a bathing cap or similarly styled hat.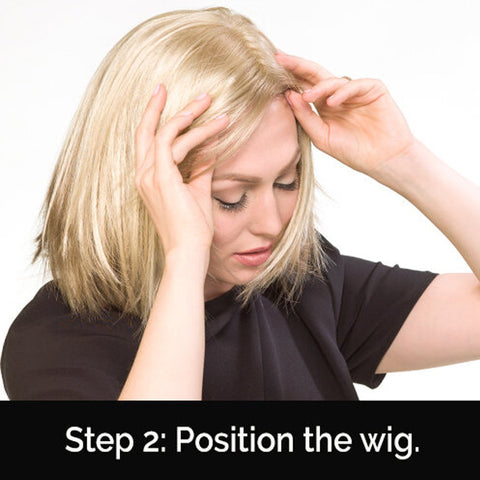 3. You'll then slowly push the front of your wig back until it rests comfortably just below your natural hairline. Remember, the point of quality wigs is to not look like wigs, so you don't want to give yourself away by exposing your own hair beneath your wig. You will then use the ear tabs on your wig to center the wig. Simply position the ear tabs on your wig on both sides in front of your ears. Of course, for the most natural look, you should never actually cover your ears with your wig.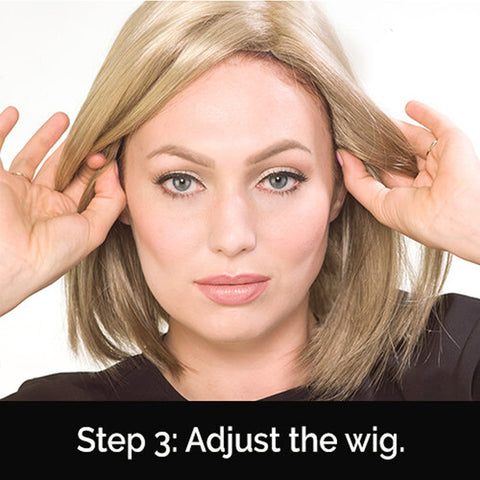 4. After you have properly centered your wig and it's completely comfortable, all you need to do then is tuck in any of your own hairs that might be peeking out from under your wig.
Some wigs feature an elastic band to ensure the best fit possible. But your wig may come with adjustable Velcro tabs instead. These are usually located in the back of the wig.  Use the Velcro tabs to adjust the perimeter of the wig to about half an inch on each side for optimal comfort. The size adjustment process will be different if you have a lace front wig. These are intended to reveal the front hairline, and you will need to practice extra care when adjusting since the ultra-fine monofilament fabric at the front of the wig cap is delicate. To put on a lace front wig, you will need to place the front of the wig above your eyebrows similar to how you would with other types of wigs, but avoid bending or folding at the front hairline. When the wig cap completely covers your head, it's important to then avoid stretching the lace monofilament in the front hairline while you take care of final adjustments.
You've now successfully put your wig on! You can now look into different styling techniques. As with the comb you use, make sure to only use products specially designed for wigs. Products intended for natural hair can be highly damaging to wigs. After you find wig hair styling products, you can experiment with different looks to easily match your outfits and occasions.